Easier to setup and monitor remote networks
We are happy to announce the release of the ITmanager.net Server Box, as well as our Enterprise Server Virtual Appliance!
The ITmanager.net Server Box allows you to setup a remote connection to a network by simply connecting our hardware appliance to a remote network.
There are many benefits to the ITmanager.net Box including:
No server software or agents to install
Monitor and manage a remote network with no software to install
Install the Box at multiple locations quickly
Simple maintenance, automatic upgrades
Includes the Box, power supply and network cables
Small form factor, only 2″ by 3″, place it anywhere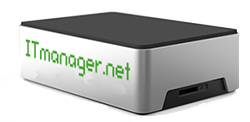 The ITmanager.net Server Box can be purchased from our website for $300 USD.
The ITmanager.net Enterprise Server Appliance allows you to setup our Enterprise Server by simply deploying a VM to your favorite VM environment, such as VMware, XenServer, Hyper-V, VirtualBox or any other VM host that supports OVA appliances.