The ITmanager.net Keychain is encrypted on the client side with AES using a hash of the account password. The clients store the encryption key based on the user password and use that decryption key to decrypt the keychain when needed.
With the secure keychain, you can quickly access your services without having to enter your credentials each time you login.
The keychain is synced automatically between all your mobile devices and allows you to share your credentials between multiple saved server connections.
The types of credentials supported by the ITmanager.net Keychain include Username & Password (and Domain), AWS keys, SSH private keys, and Google Apps tokens.
You can add as many credentials as you like to your keychain and have the option to name each one.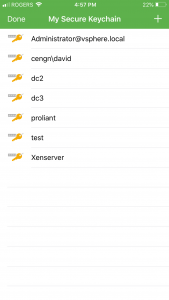 Still have questions?
Call us at: 1-800-371-4841