Note: When renaming your ITmanager.net Enterprise Server be sure there are no spaces in the name.
Step 1: On the computer where the ITmanager.net Enterprise Server is running go to the Start Menu/All Programs/ITmanager.net. Select the ITmanager.net icon to open it.
Step 2: Once the browser opens with ITmanager.net running highlight the field "Private Network Name" and then RENAME it. The click Save.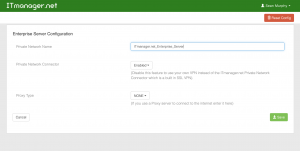 In the above picture the old Server is named "ITmanager.net_Enterprise_Server". That name will be renamed to "ITMAN_ENT_SERV".
Step 3: From mobile app or web app go back to your Services/Connection configurations and in the last field "Private Network" from the drop down list choose the updated named server. You will have to do this for each of your Services/Connections.

Note: In the web app to remove the old/off-line connector click on the "Trash Bin". For more detailed instructions click on the below link.
https://www.itmanager.net/dwkb/how-do-i-remove-a-enterprise-server/